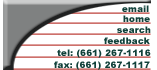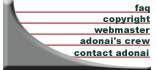 ADONAI "TOOL & DIE" ENGINEERING'S FREQUENTLY ASKED QUESTIONS

---
The following list of questions are commonly asked by Adonai's Tool & Dies customers. These questions and answers are here to help you with many of the simple yet hard to find answers that Adonai has had the opportunity of solving. Please email us with any other questions or comments you think would be beneficial to our customers. Thank you for your input, we appreciate it.

Question: What is Adonai Tool & Die's Return Policy?
Answer: Returned items must be in new condition and original packing. Returns for exchange, credit, or refund must have a pre-issued "Return Authorization Number (RA#)" within 15 days after original shipment date.

Question: What are Adonai Tool & Die's Terms of Sale?
Answer: Payments can be made by check, money order, and open account for established pre-approved customers.

Question: What are Adonai Tool & Die's Shipping Policies?
Answer: Adonai Tool & Die ships via its own Company Trucks or other common carrier to commercial, industrial, and street addresses. Shipping and insurance charges are added to the invoice amount. Phone for estimated shipping charges.