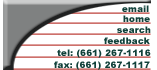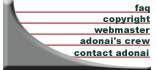 ABOUT ADONAI "TOOL & DIE" ENGINEERING

---
Adonai "Tool & Die" Engineering has been Designing, Developing, and Manufacturing Quality Metal Fabricated Products since the 1970's. New ideas and inventions have been developed and manufactured for customers using years of experience in Automated Machines, Metal Stamping, Machining and Grinding, Sheet Metal Fabrication and Drilling and Tapping. Adonai helps their customers find solutions to product designs by developing their ideas into manufactured products. From ideas, to planning, to developed prototypes, and finally to the manufactured product, Adonai helps the customer create the product that they envisioned.

New "quality control" designs help Adonai maintain consistency throughout the production process while also increasing the efficiency of the workplace and production processes. A growing list of machinery and equipment continues to increase production capabilities while also decreasing production times (more in-house services means less steps in the production process).

Adonai has the experience, quality, and customer service that only a successful company is able to develop. Understanding that a company's success is relative to its customers satisfaction, its easy to see why Adonai "Tool & Die" Engineering has been around for almost 3 decades. A history of hard work, quality products and excellent customer service make Adonai an obvious choice for your new project developments. Let Adonai turn your ideas into products!


A view of some "Dies" ready for action..