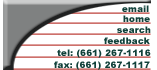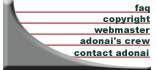 ADONAI "TOOL & DIE" ENGINEERING'S CNC MACHINING & GRINDING SERVICES

---
Adonai "Tool & Die" Engineering not only specializes in automated machines, metal stamping, metal fabrication, sheet metal fabrication, drilling and tapping, and floor safe boxes but has also developed its CNC Machining and Grinding services. Adonai's CNC Machining and Grinding techniques are harbored from years of experience in "Tool & Die" design and production. The specialized piece of equipment shown below, along with Albert, the master engineer, and Adonai's experienced workforce can produce some of the best products in the "tool & die" business. Let Adonai plan, develop, engineer, and produce one of your specialty parts or products today. For more information on Adonai's CNC Machining & Grinding services please call (661) 267-1116.


Adonai's CNC Machining & Grinding Machine
To view a movie of Adonai's CNC Machining & Grinding Machine in action please click on the link that is most appropriate for your computer system.


A) machiningrinding.avi - 644 KB

B) machiningrinding.mpg - 1.3 MB

C) machiningrinding.mov - 1.2 MB

If you do not have one of the appropriate video players please visit these web sites and download it for free.